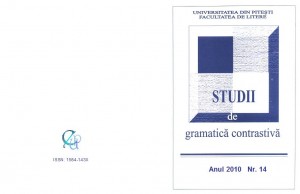 Studii de gramatică contrastivă
ISSN-L: 1584 – 143X
e-ISSN: 2344-4193
 Biannual appearance
Accredited by CNCS: B+ category in 2010, 2011, C category in 2012-2016  
Studii de Gramatica Contrastiva (Studies in Contrastive Grammar) is a biannual journal for specialists in linguistics, history of language and other related fields. The main focus of the journal is comparative and contrastive study, from a wide range of perspectives: general linguistics, applied linguistics, semantics, formal grammar, translation studies.
Sections:
Contrastive Grammar
Translation Studies
Varia
The main objectives of the journal are to promote interdisciplinarity and transdisciplinarity and to encourage innovative thinking and intercultural exchange.
Looking for the ideal business to essay writing service purchase from is also significant.
The articles are published in English, French, Italian, German, Russian and Spanish.
LATEST ISSUES
32/2019
 GRAMATICĂ CONTRASTIVĂ/GRAMMAIRE CONTRASTIVE /CONTRASTIVE GRAMMAR
 Mirela Valerica Ivan
Les noms d'animaux dans les proverbes français et leur equivalent en roumain / 7
 Nicoleta Florina Mincă
Types of Predicates in English and Romanian / 18
 Amir Mehdi, Zoubir Smail
De la grammaticalité à la pragmaticalité : histoire d'instabilité fonctionnelle du connecteur « mais » / 27
Djè Christian Rodrigue Tidou
Tout ce que tu as, j'a'' ou le décryptage des invariants oraux dans l'humour ivoirien / 33
 Karima Zarzi, Nabil Sadi
Le français en usage chez les étudiants subsahariens en Algérie / 49
TRADUCTOLOGIE/ TRADUCTOLOGIE/ TRANSLATION STUDIES
 Carmen-Ecaterina Ciobâcă
Enseigner le culturème juridique français à travers la littérature : quand la traduction didactique devient véhicule de compréhension / 63
 Cristina Ilinca, Carmen Bîzu, Silvia Boncescu, Roberta Cozmîncă
Extraction et gestion terminologique par manipulation d'un corpus multilingue de textes spécialisés (domaine technique) / 79
VARIA
 Samir Meftah, Mourad Bektache
De l'ethos dit à l'ethos montré en (inter)action : E. Macron lors du débat de l'entre-deux-tours / 91 

It isn't essay writer important how long past the exam was or how many you've taken before.