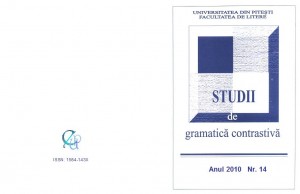 Studii de gramatică contrastivă
ISSN-L: 1584 – 143X
e-ISSN: 2344-4193
Semiannual frequency
Accredited by CNCS: B+ category in 2010, 2011, C category in 2012-2016  
Studii de Gramatica Contrastiva (Studies in Contrastive Grammar) is a biannual journal for specialists in linguistics, history of language and other related fields. The main focus of the journal is comparative and contrastive study, from a wide range of perspectives: general linguistics, applied linguistics, semantics, formal grammar, translation studies.
Sections:
Contrastive Grammar
Translation Studies
Varia
The main objectives of the journal are to promote interdisciplinarity and transdisciplinarity and to encourage innovative thinking and intercultural exchange.
The articles are published in English, French, Italian, German, Russian and Spanish.